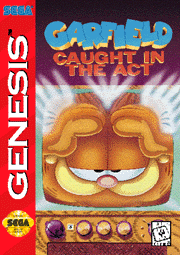 Garfield: Caught In the Act
Welcome to my Garfield: Caught In the Act page. In here there will be passwords, Game Genie codes and link to other Garfield:Caught In the Act sites.
---
Passwords
Will take you to:
level 3: Irma, Garfield, Odie
level 4: John, Pooky, Arlene
level 5: Irma, Pooky, Garfield
level 6: Odie, Odie, Arlene
---
Game Genie Codes
SEGA GENESIS
1. A02A-EAD4 Start with 5 shots
2. KRDA-EAD4 Start with 50 shots
3. NR2A-EAD4 Start with 99 shots
4. RHCA-E6Y2 + RHCA-E6Y4 Infinite ammo when standing
5. AA6A-CAGY + AA6A-CAHA Can't collect any ammo
6. RHYT-E61T + RHYT-E61W Infinite lives
7. AA5A-CAD4 Can't collect any energy
8. ADZT-RGZA + RGZA-A6YJ + RGZA-A6YL Don't loose energy
CODES 9-11 IGNORE COUNTER
9. AG2A-EADC Start with very little energy
10. A02A-EADC Star with 1/2 energy
11. BC2A-EADC Start with about 3/4 energy
12. RHDT-A6T8 + RHDT-A6VA 1 hit and you're invincible
Galoob's Game Genie page where you can get codes to all of your games for any system that has a game genie.